The Enamel Shop.com
UK Agents for Uhlig Enamelling Kilns

Brushes
Even today the best quality Artist Brushes are made by hand and this craftmanship coupled with the highest grade materials allow us to present our own comprehensive range of brushes for all types of painting techniques.
The majority of brushes are made from natural hair or bristle. Hair brushes have an individual point and are ideal for water colour work. Bristle brushes have numerous tips commonly known as flags making them less flexible but harder wearing, particularly suited to oil painting.
Our two premium ranges are pure red sable hair and the selected Kolonisky brushes. The Red Sable hair is found mainly in central and Northern China and is taken from the Asiatic Mink (Sable), while the strongest most resilient hair is found in Siberian Manchuria regions and is known by the name Kolinksy.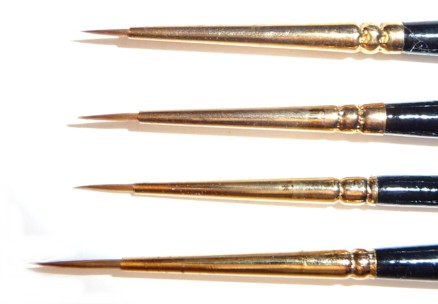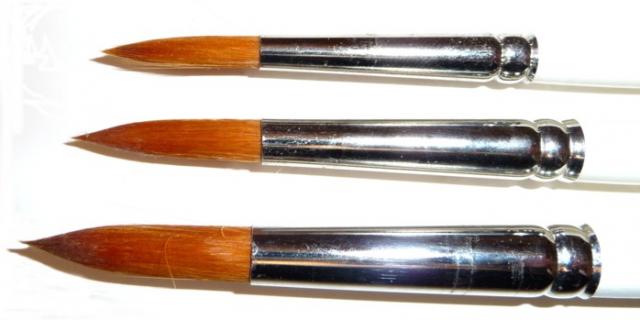 PURE RED SABLE KOLINSKY
Pire Red Sable hair selected KOLINKSY, in seamless golden ferrule, superior black varnished handle. The artists choice for fine work with excellent control for delicate brush strokes and the finest detail

SIZES:
1.0 mm
1.1 mm
1.4 mm
1.5 mm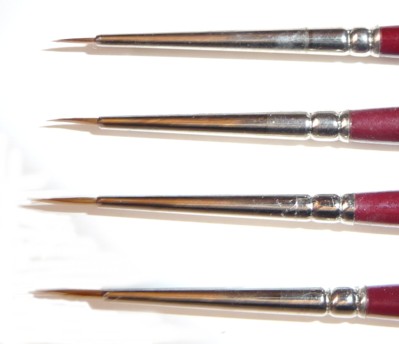 PURE RED SABLE
Pure Red Sable hair in seamless silver ferrule, superior cherry red varnished handle. Firm yet resilient brush for placing colour in specific areas. Very fine tips for detail, small designs and brush work

SIZES:
1.0 mm
1.1 mm
1.4 mm
1.5 mm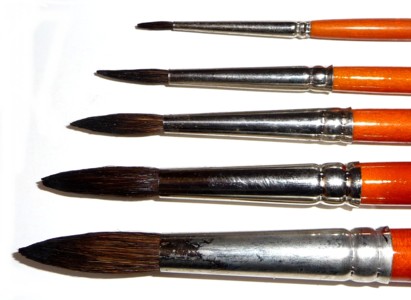 SQUIRREL MIXED HAIR
Squirrel mixture hair, in nickel plate ferrule, cedar varnished handle. Ideal economy brush for multi purpose use and school work.

SIZES:
2.2 mm
3.1 mm
3.9 mm
6.0 mm
8.1 mm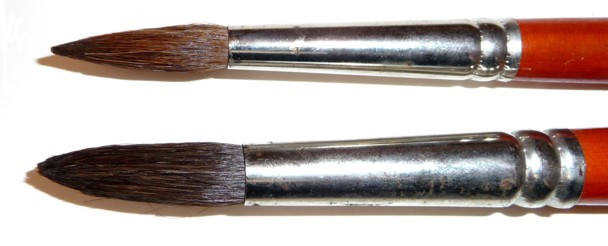 PONY HAIR
Pony hair in nickel plate ferrrule, cedar varnished handle. Old established brand of brush, can be used for watercolour over broad areas, for glazing, wood graining and varnishing

TORAY HAIR
Toray hair in seamless nickel plate ferrule, short white varnished handle. Watercolour esuage, pointing and for all types of poster, powder paints used in schools.

SIZES:
3.9 mm
6.0 mm
8.1 mm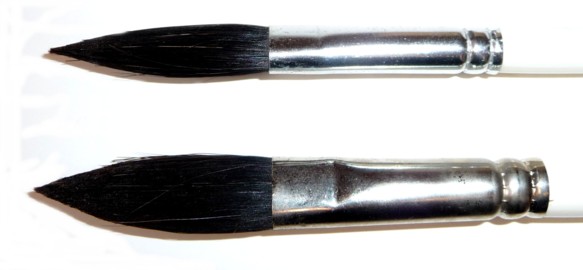 OX HAIR
Ox hair taken from the ear of the Ox - this is very strong and is used mainly in larger brushes for stroke work where fine pointing is not required.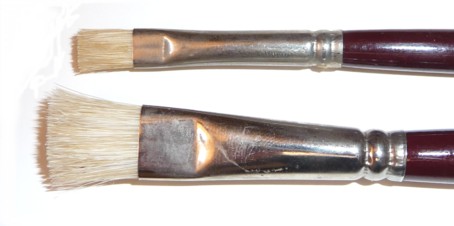 BRISTLE - STENCIL TIP
Light bristle in tin ferrule, short raw wood handle. superior grade brush with blunt tip, ideal for stencil work and textured brush work.
BRISTLE - LONG HANDLE
Snow white China bristle, in nickel plated ferrule, long cherry red varnished handle. Superior grade brush with short, thick shape for extra control - ideal for stainwork and glaze textures.

LIGHT OX HAIR - LONG HANDLE
Light Ox hair in nickel plate ferrule, long cherry red varnished handle. This brush has body and resiliency; good for applying non flowing colours and glazes.

SIZES:
3.2 mm
6.8 mm
11.4 mm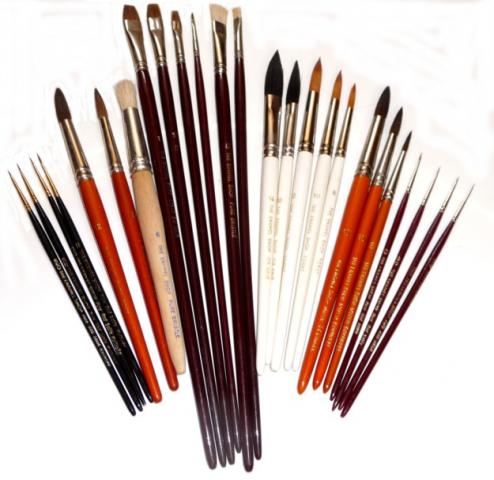 SPECIAL OFFER! PAINTBRUSH SET
THE IDEAL ACCESSORY PACK FOR ALL ARTIST OR SCHOOL WORKSHOPS

1 BRUSH OF EACH SIZE & TYPE FROM OUR COMPLETE RANGE OF BRUSHES

All rights reserved The Enamel Shop 2010

The Enamel Shop Established 1976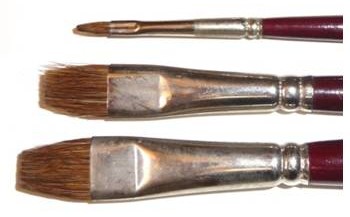 25% SAVING ON INDIVIDUAL PRICES